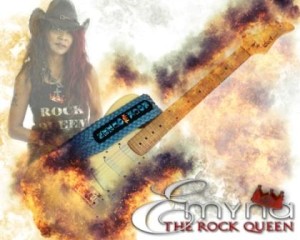 Featured
By: debbie foster
March 3, 2017
Categories: news, performer, Singer, songwriter, The Rock Queen News, Time To Rise
Tags: Emyna, Rock Singer, Rock Star, Singer/Songwriter, The Rock Queen
Welcome
The Rock Queens News 
Emyna – The Rock Queen
Sharing my music with all my fans has been my desire all my life.  The songs I write and perform are created to inspire you to be the best you can be always.
Each song I have written has been based on what is happening in my life and the lessons that I have learned.
I love to share new artists, techniques for creating music through proper voice, guitar and other methods.  Yoga is an important part of my life and using it when I am working on my vocals, has improved my range over the years.  Watch for tips on how to improve your talents.
You Can See

My Rock Queens Now Interviews

On:
Be sure an watch The Worldwide Premier of Rise Now!
I look forward to sharing more music and ideas with you.
Sincerely yours,   
Emyna, The Rock Queen